The packed audience in the chapel on Tuesday night was treated to a wonderful evening showcasing musical talent from across the school.
Over fifty pupils ranging from Year 2 to Year 13 took part. All musical styles from classical to contemporary were on display.
The performers exuded confidence and skill. They all clearly thoroughly enjoyed what they were doing. Such enthusiasm was infectious and very soon the audience were foot tapping and hand clapping along to the livelier numbers.
Real musicality was on display throughout the concert. The range of the instruments played – which included a ukulele and an amazing Vietnamese Dan Bau – show the vitality and diversity offered by the music department.
On a cold advent evening, the Christmas element of the concert warmed the room. Good King Wenceslas was performed alongside the classic Eartha Kitt "Santa baby."
The two renditions of Silent Night stirred a different memory – of Christmas Eve 1914 where the German trenches started a spontaneous rendition of "Stille Nacht" and the British tommies sang in kind. In a chapel where a congregation had a few weeks before gathered to remember the 25 fallen from the College in World War One, it seemed entirely fitting to hear later a song entitled "Empty chairs and empty tables".
Classic soloists performed on violins, cellos, pianos, trumpets and flutes. Pieces as diverse as Verdi, Gardel, Susato Telemann and Smetana showed how the rigorous cerebral discipline of learning a complicated instrument is wonderfully alive and well.
In an X Factor age individual singers showed how much they enjoyed performing tunes from contemporary pop culture. The younger pupils in the audience were clearly delighted to hear songs from Britney Spears, George Ezra, Katie Perry and Adele which they recognised. The passion and ambition of these singers was obvious. From TC to a recording contract did not look like an impossible dream for several of these soloists.
Music from West End shows was also performed with the songs enriched by the obvious underlying dramatic talent of the singers.
Most pleasing of all was to see the number of bands and choirs on offer at the College – jazz band, rock group, Prep School and Senior School choirs. They performed difficult pieces excellently. Learning to work with other people is one of the most important lessons for life. Being part of these ensembles means those young people are being equipped in ways that will stand them in good stead, whatever their future careers. The comradery engendered from a shared endeavour was clear to see. It was lovely to watch the team spirit cross the age divide.
What was the concert like? Imagine station hopping from a "down with the kids" cutting edge Radio 1 DJ show to a classy genteel Radio 3 broadcast from the CBSO and then to Radio 2's smooth familiar sound. Well, that is how you could sum up the evening, but it was all seamless, natural and the styles did not jangle because each individual performance stood and shone in its own right. Highlights? Well to be frank, too many to mention. The best performer? It would be hard to pick a first out of equals. It would be more accurate to say everyone who took part in the evening were equals among firsts.
As an audience member, I would like to thank each and every performer for a really enjoyable evening and to say how impressive it was that after only a term at TC the new Musical Director, Mr Howard, was able to co-ordinate and choreograph such an outstanding all age concert, which sent everyone away with a skip in their step and a tune in their head.
Any school's mission must to nurture an individual's talent so they confidently reach their full potential. We certainly saw that in evidence at this Christmas Concert.
– Parent, Andrew Wynne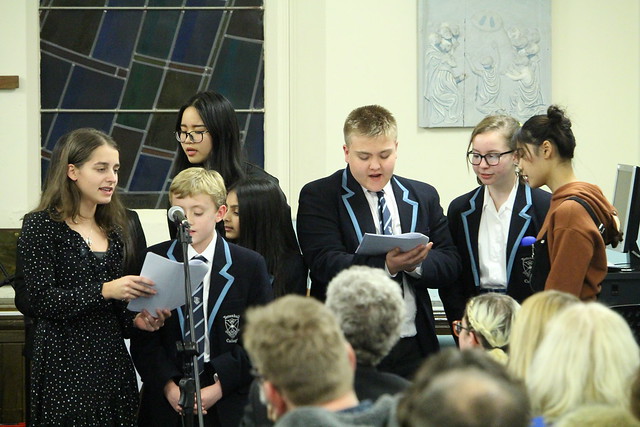 Categories:
Music